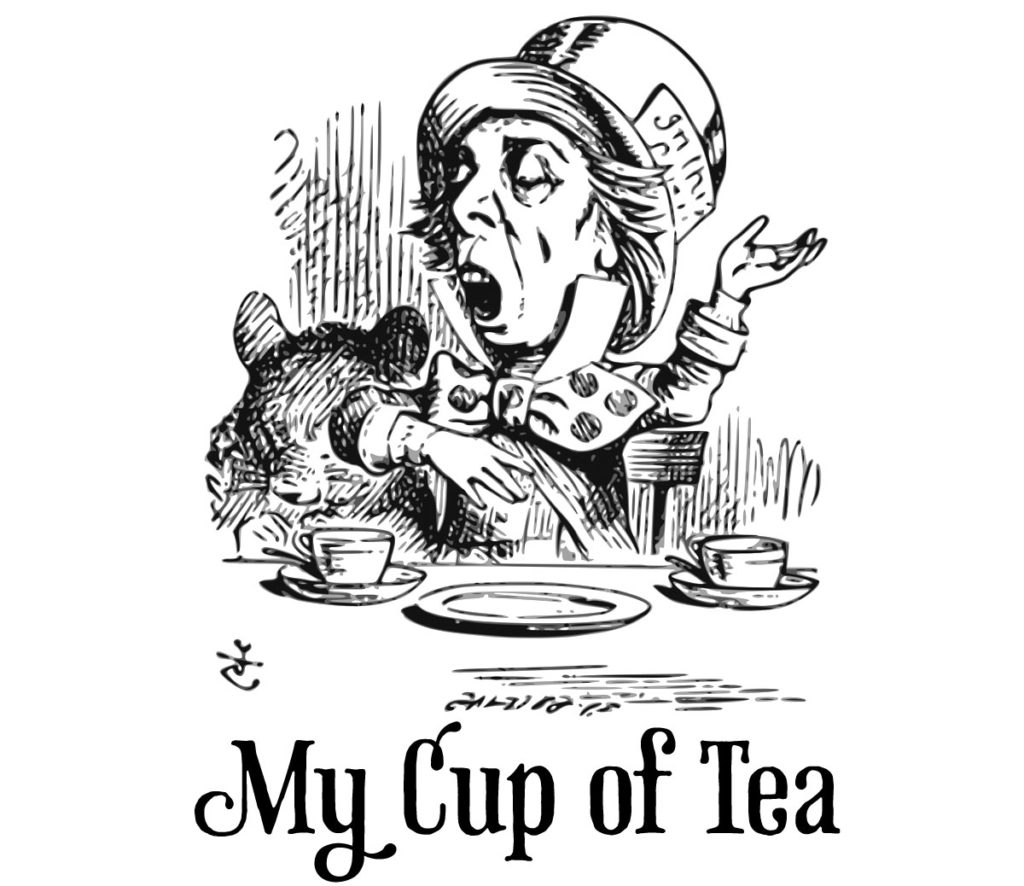 When I was a little boy I drew pictures, wrote stories, pretended to play music and wanted to be Darrin Stevens, the advertising executive husband of Samantha, star of the TV series, Bewitched.
Several decades later I still make art, still write, actually play music and am still enamored of my own favorite witch.
I've gotten a little more successful at it over the years, which means I'm able to share what I've learned with clients, as well as take their stories and add to what I know.
Unless you need help with your own favorite witch or warlock. I can't help you there. In that I'm afraid we're all neophytes.
These are things I specialize in, that I love doing.  It's what I do day in and day out, trying to avoid the necessity of having a real job, and instead doing what I love.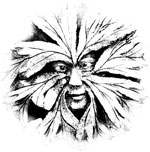 A Gothic Curiosity Cabinet
The first lesson I learned about SEO was words attracted more visitors than photos. I did a lot of photography in historic sites and noticed if I got a photo of a house or location reported to be haunted, it got about five times more traffic than the house next door. So I started collecting these stories. I've always been a fan of gothic horror stories from the past, so those went on the site as well. Since there was that much more traffic to this site, I moved my historical articles here too. And finally, my own experiments with gardening, which focuses on poisons and plants associated with witchcraft and folklore.
The conventional wisdom is that short articles attract more readers, but is that really what you want as an author? Obviously if you're wanting to grow your audience you have to appeal to a common denominator. But does it have to be the lowest?
What I've found is long articles get read too. Some of what I write is quite long, and I find through Google Analytics that the average time spent on these articles can be upwards of ten minutes. That tells me yes, people will read longer pieces.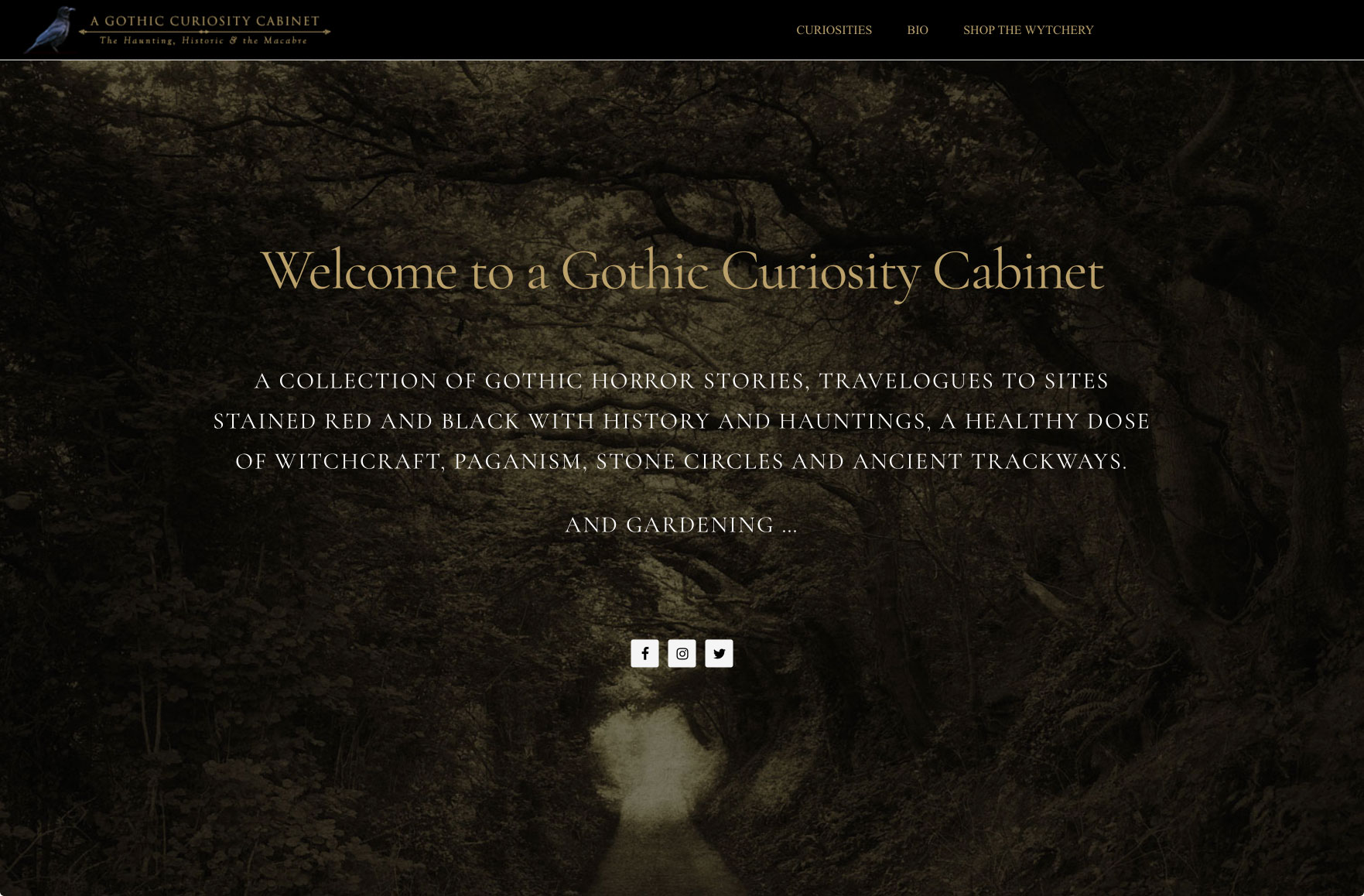 A lot of focus goes into a home page, but to be honest, most of my audience lands on interior pages, an article on a specific topic that they're searching for. Your homepage is mainly for those driven to the personality of your site, its content as a whole. So it pays to give it a look and feel to match the content. I sell mysteries, goose bumps up and down the arm, a shiver up the spine.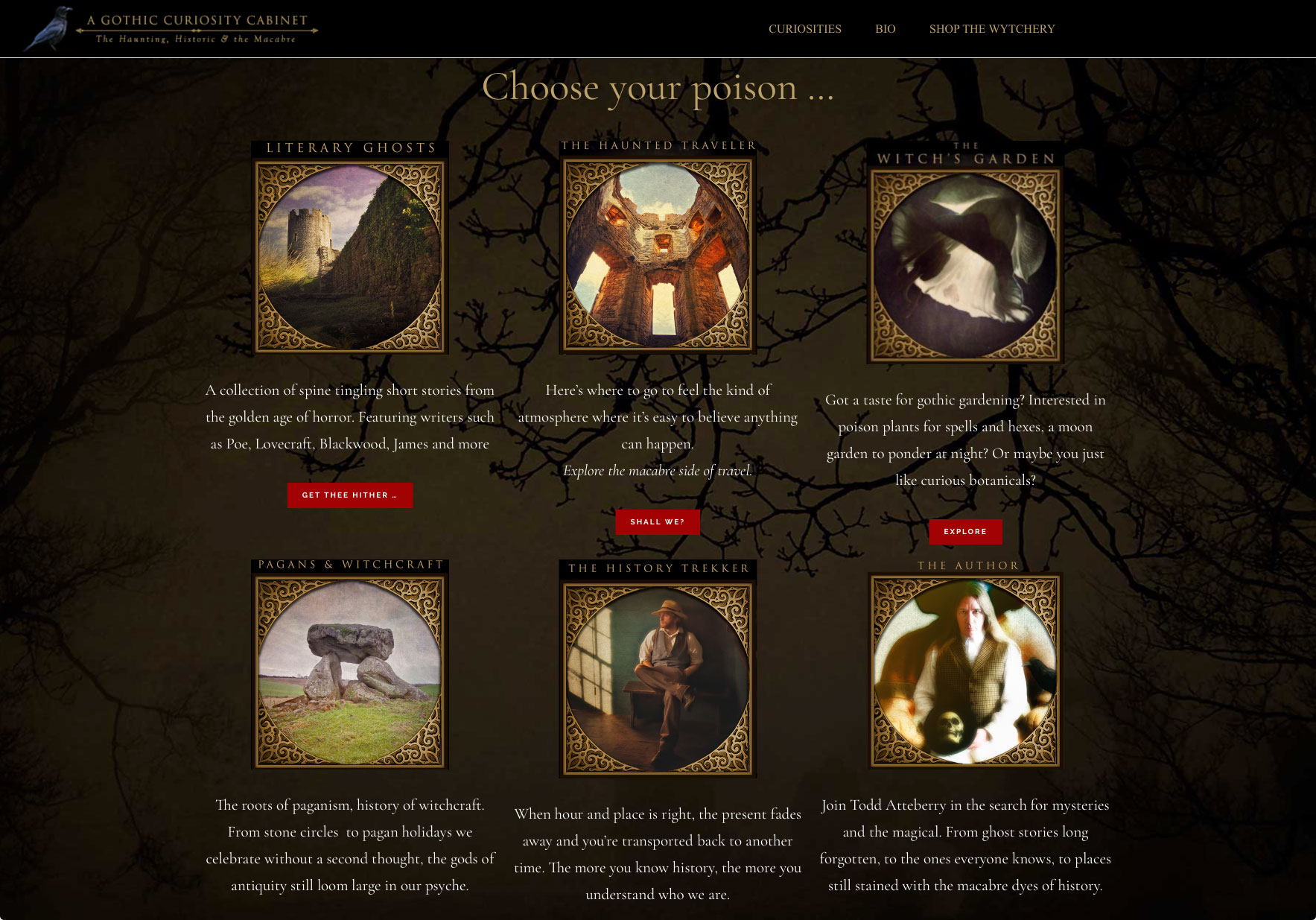 It's important to get people to where they want to be on your site quickly. I have a variety of topics I cover, so breaking it down into categories rather than particular articles makes sense. Graphics make for an intuitive click, and get a higher click rate than text links. They're also much easier to hit on tablets and phones than text.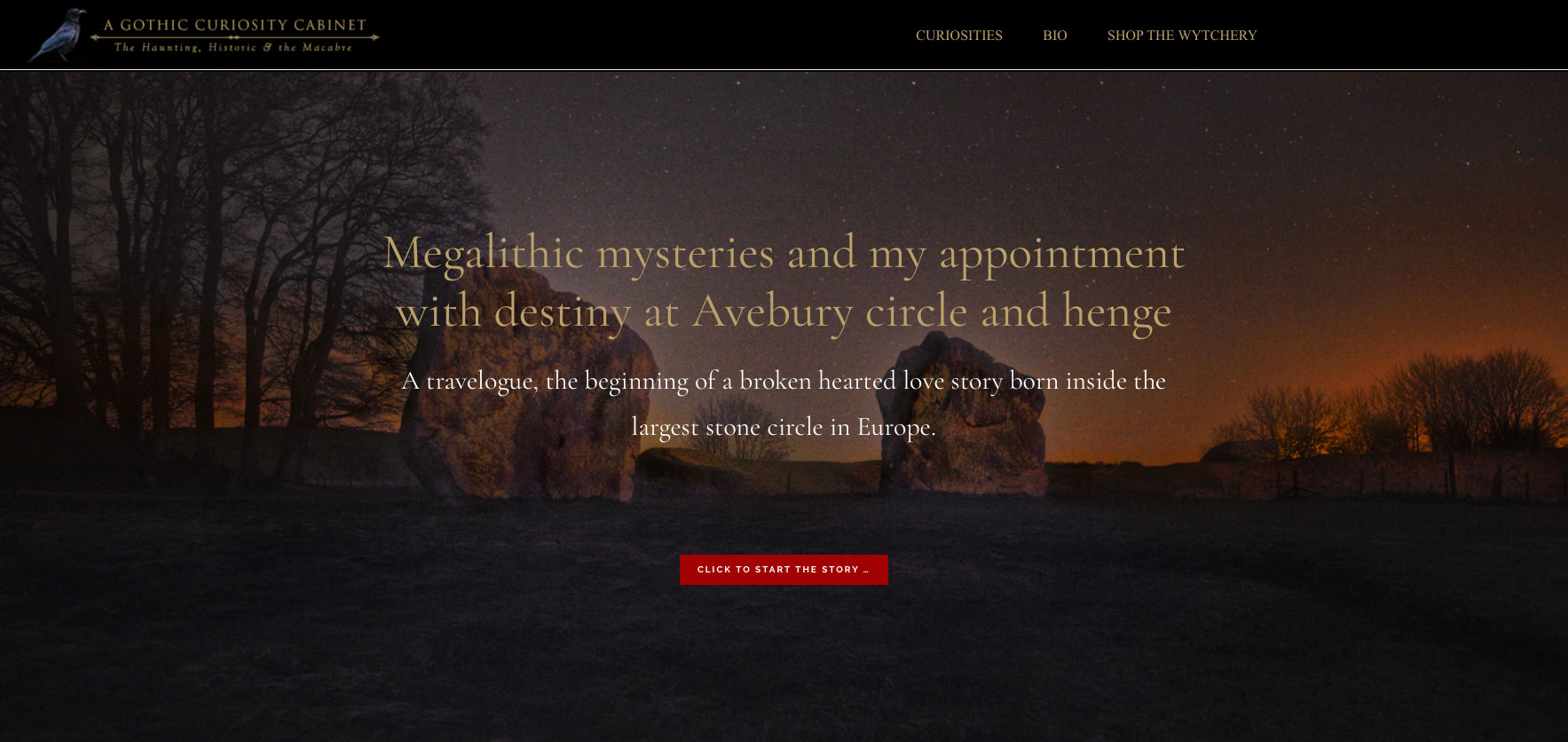 I still keep a couple spots on the homepage for featured articles. As most of the content on my site is based in America, it means I don't get the lift I'd like from search results for articles about Britain, which has been my focus the past couple of years. Social media helps take up the slack, and visitors from those profiles often end up on the homepage. As a result, I've managed to double the readership on my British content in just a few months.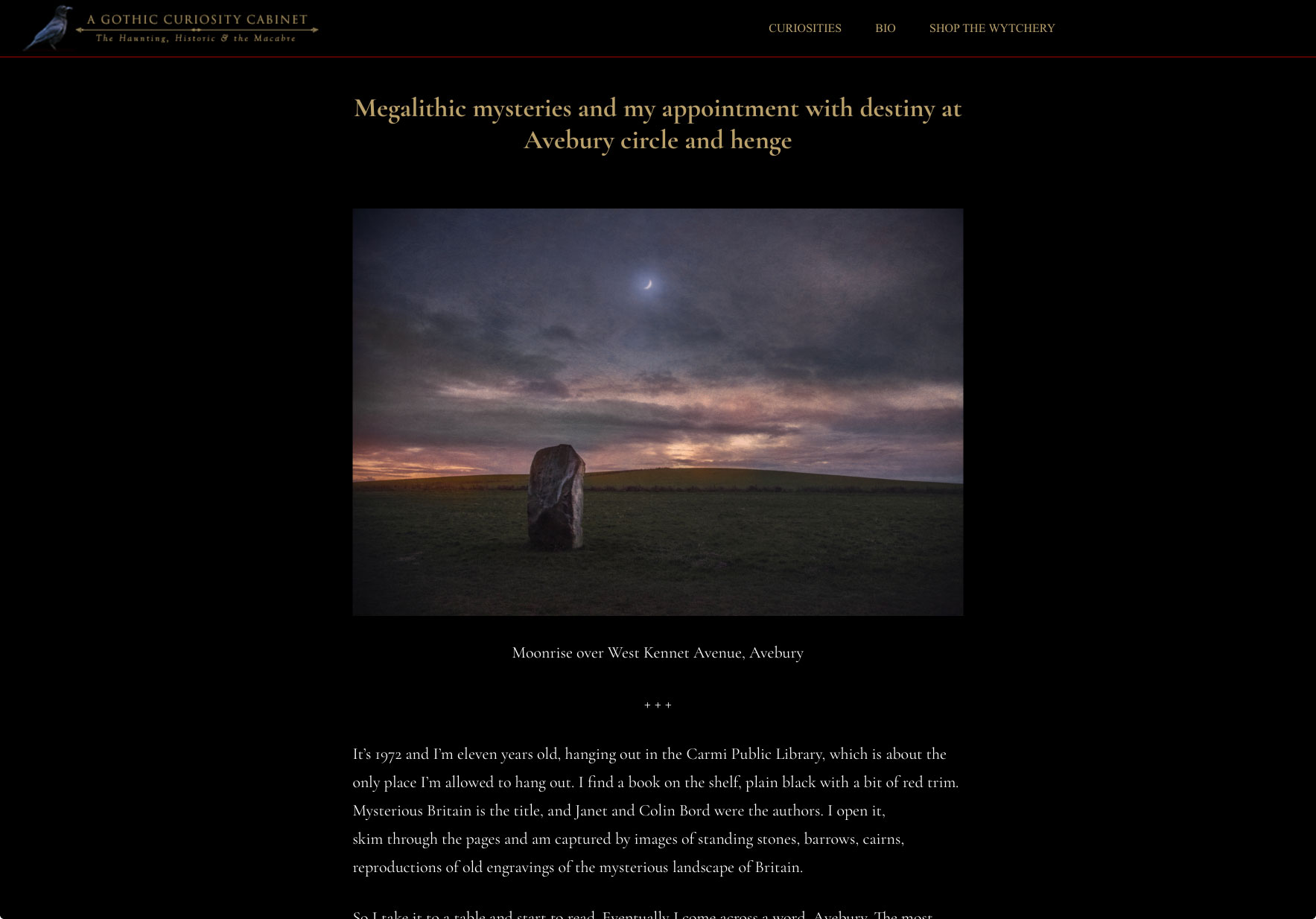 There was a time when the sidebar was seen as a necessity. The problem with that is, it adds clutter and distractions for the reader. It's the difference between reading a novel and reading a newspaper. Besides, tablets and phones toss the sidebar to the bottom anyway.
The current style favors wide content, but what few designers seem to know is a shorter line length makes text much easier to read. It's those little differences that help to keep a reader on the page.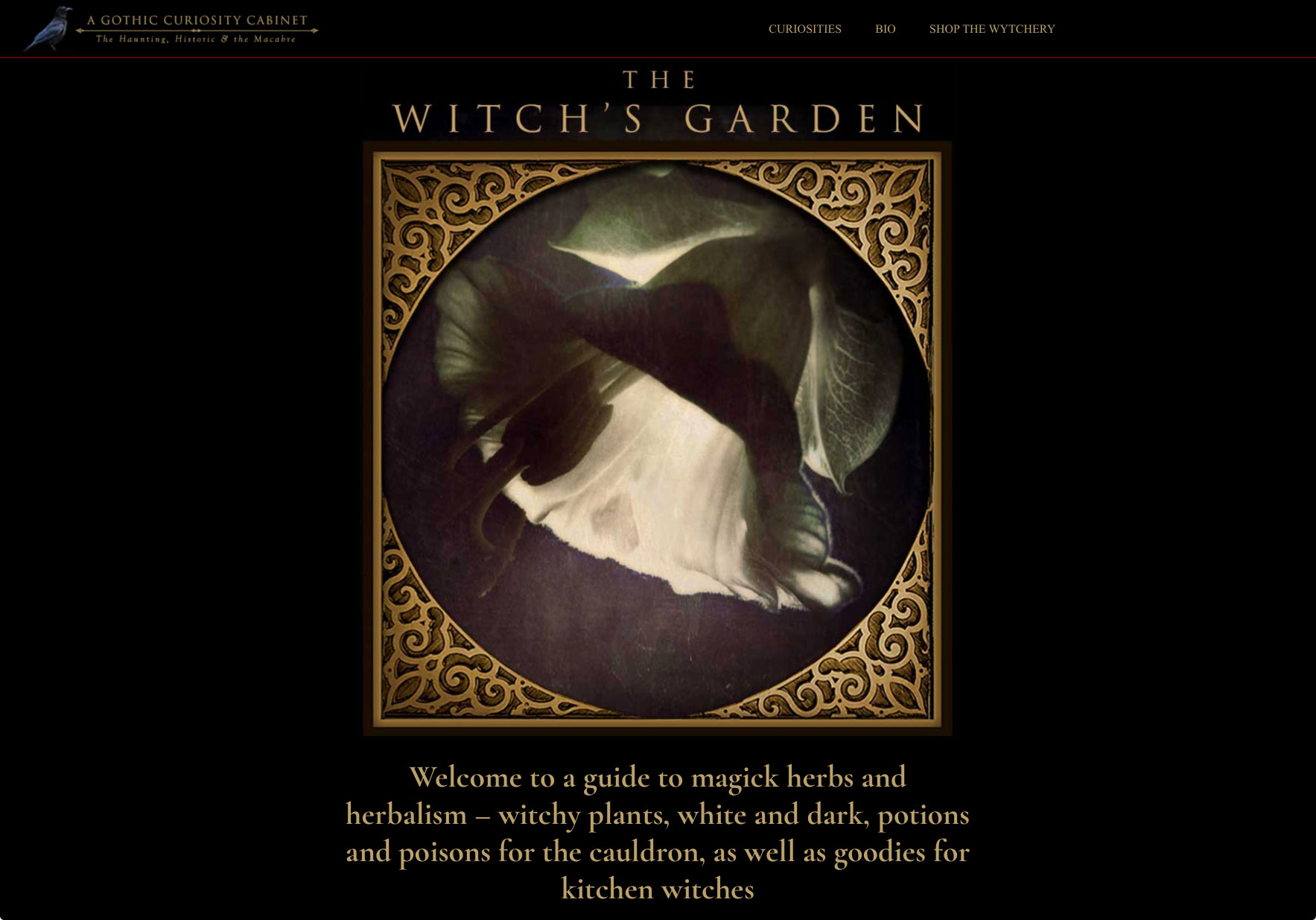 Large graphics on landing pages might seem like a luxury, but they are impressive on laptops and desktops. When viewed on phones, they're normal size graphics and still large enough to have impact. Partnering with British artist Cate Davies brought beauty to the site, and more eyes on her work, which is a fair trade.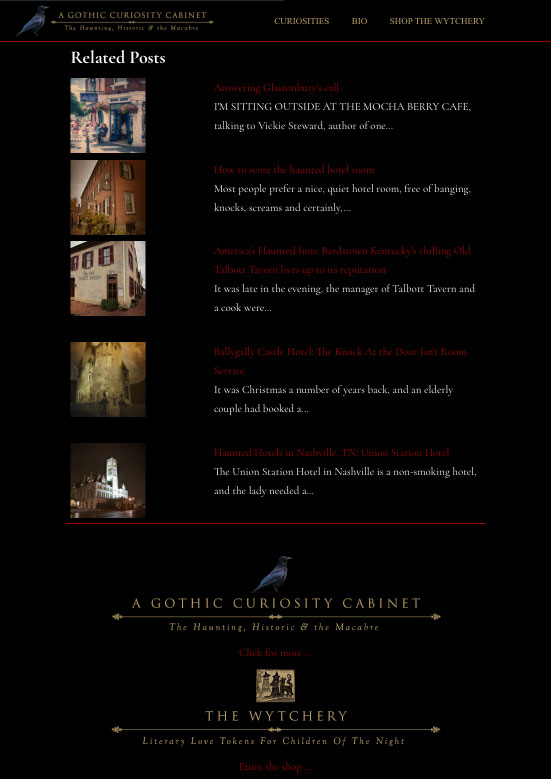 As I noted above, sidebars now fall below the content on most devices. More than half of the traffic to this site comes via phone and tablet. A better solution to the sidebar is related posts. If they manage to get to the end of what you've written, there's a good chance you can keep them on the site by delivering more content of a similar nature. You can do this by hand, or with WordPress, automatically via a plugin.
Another automatic feature of a WordPress site is after content widgets. What I do is send people either to a related post or the homepage. My homepage has the lowest bounce rate on the site, so it's the logical place to send someone who doesn't know where to go next.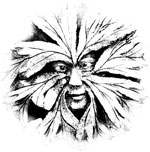 The Wytchery: Expanding a product line when sales start to dip
Using a Red Bubble shopping cart with a WordPress storefront
As traffic has built up over the years, and prints sales are always tough to make, I decided it was time to add a storefront on A Gothic Curiosity Cabinet. Because after all, it's where all the people are. Thus the Wytchery was born.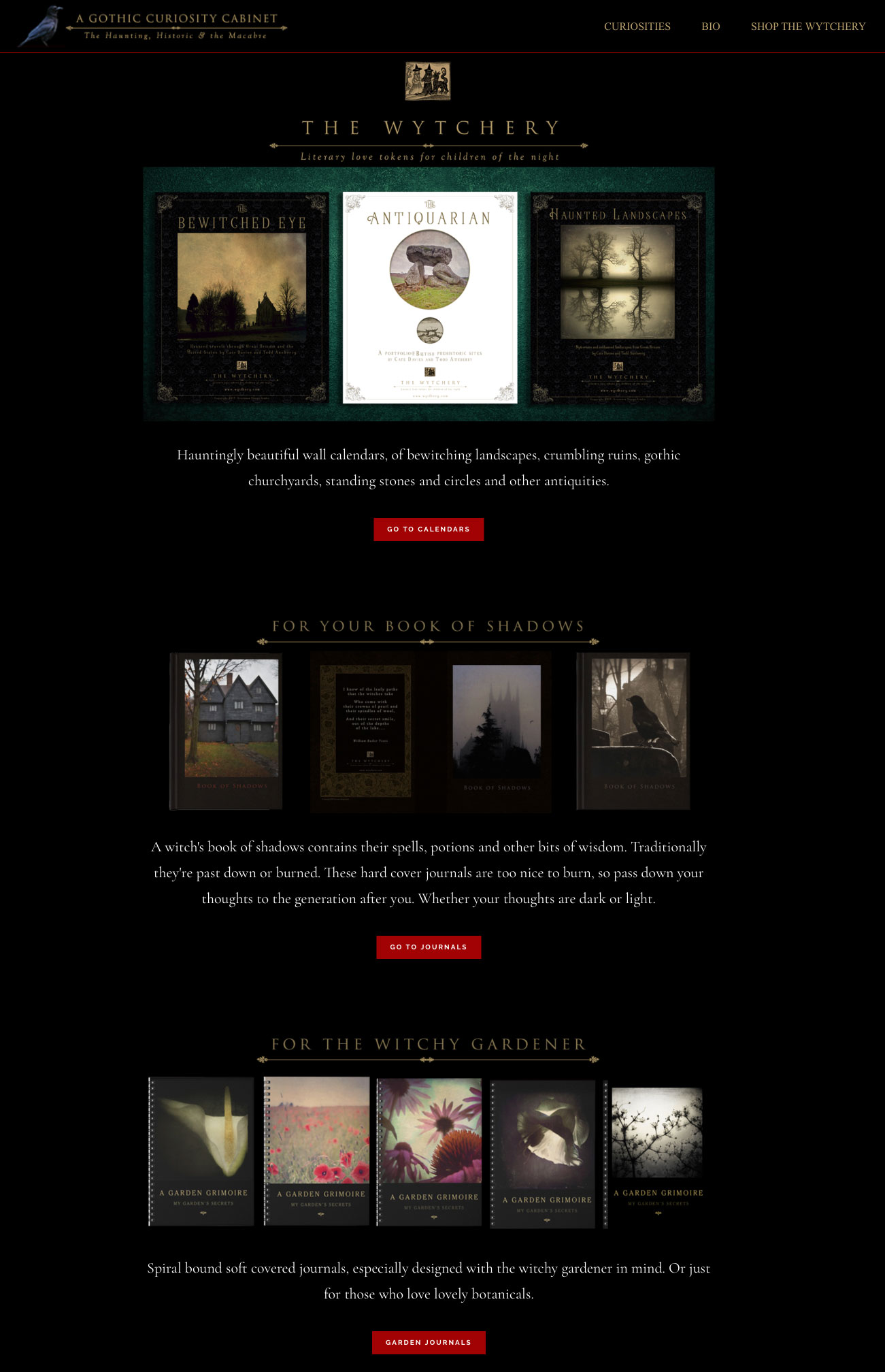 From the beginning I've had a SmugMug site to sell fine art prints and stock photography. That market unfortunately became saturated over the years, and sales have slowly dwindled, as I haven't put the time into it I should.
People have limited space on their walls and don't buy prints often. When they do, they tend to keep them up there for a long time. While I'd love to offer other products by other artists – crafts and fine art as well, that means fulfilling orders and buying stock. Green Man keeps me a bit busy for that.
After looking at a variety of services, I settled on Red Bubble. Since this is a site focused on writing, literature, history and travel, I wanted a product line which has a literary bent to it. Red Bubble offers journals – both hardback and spiral bound, as well as calendars and greeting cards, and seem to do quality work. So it's a natural fit with the images that are found on the site, as well as those in the archives.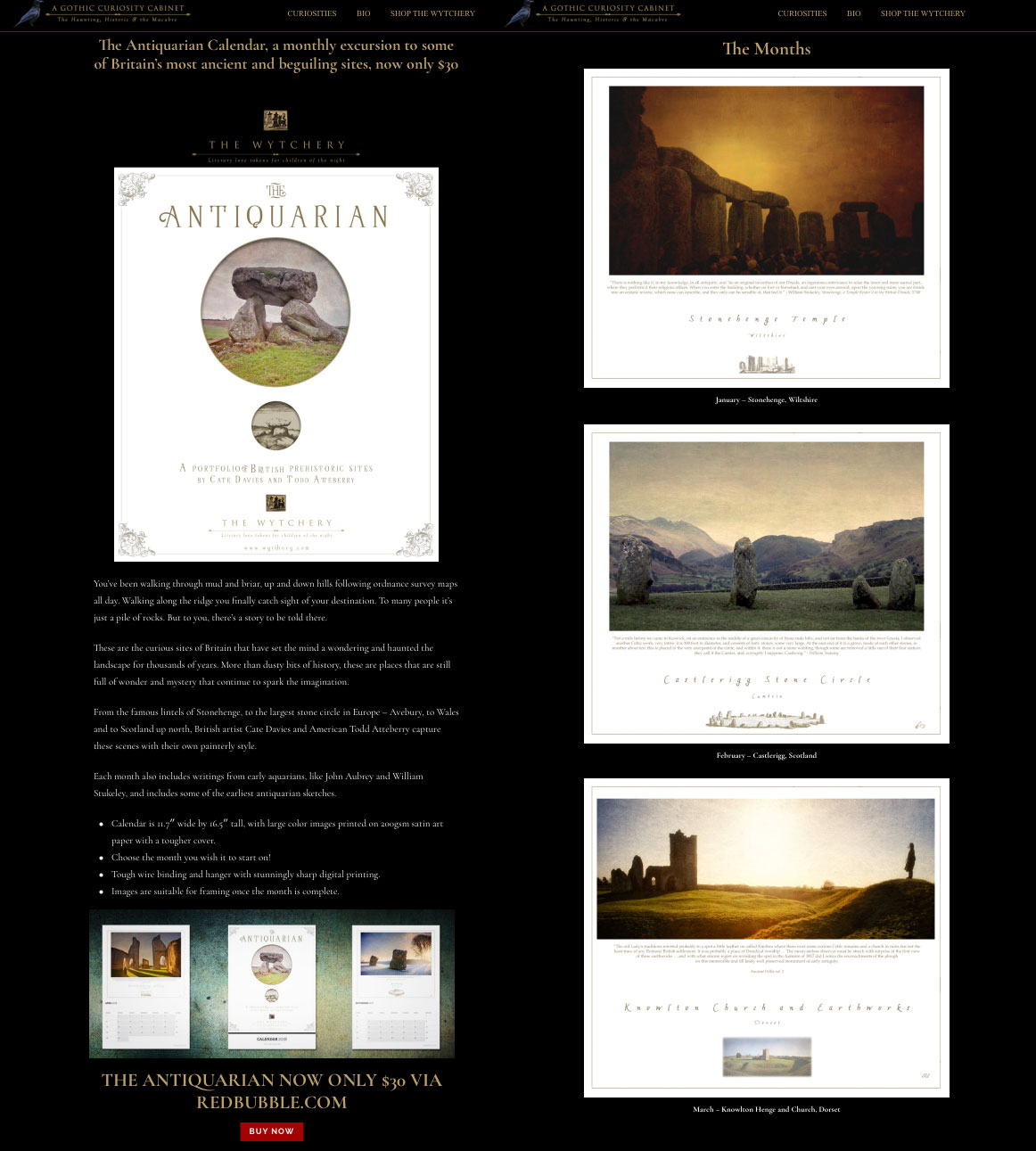 Calendars are a good fit for photographers and artists. They only last a year and quite often people get a new one the following year. I can provide all the information to make the sale here on the site, and clicking the link takes you directly to the Red Bubble product page. I'm not a fan of Red Bubble's design, so it's comforting to make that a last step of the process.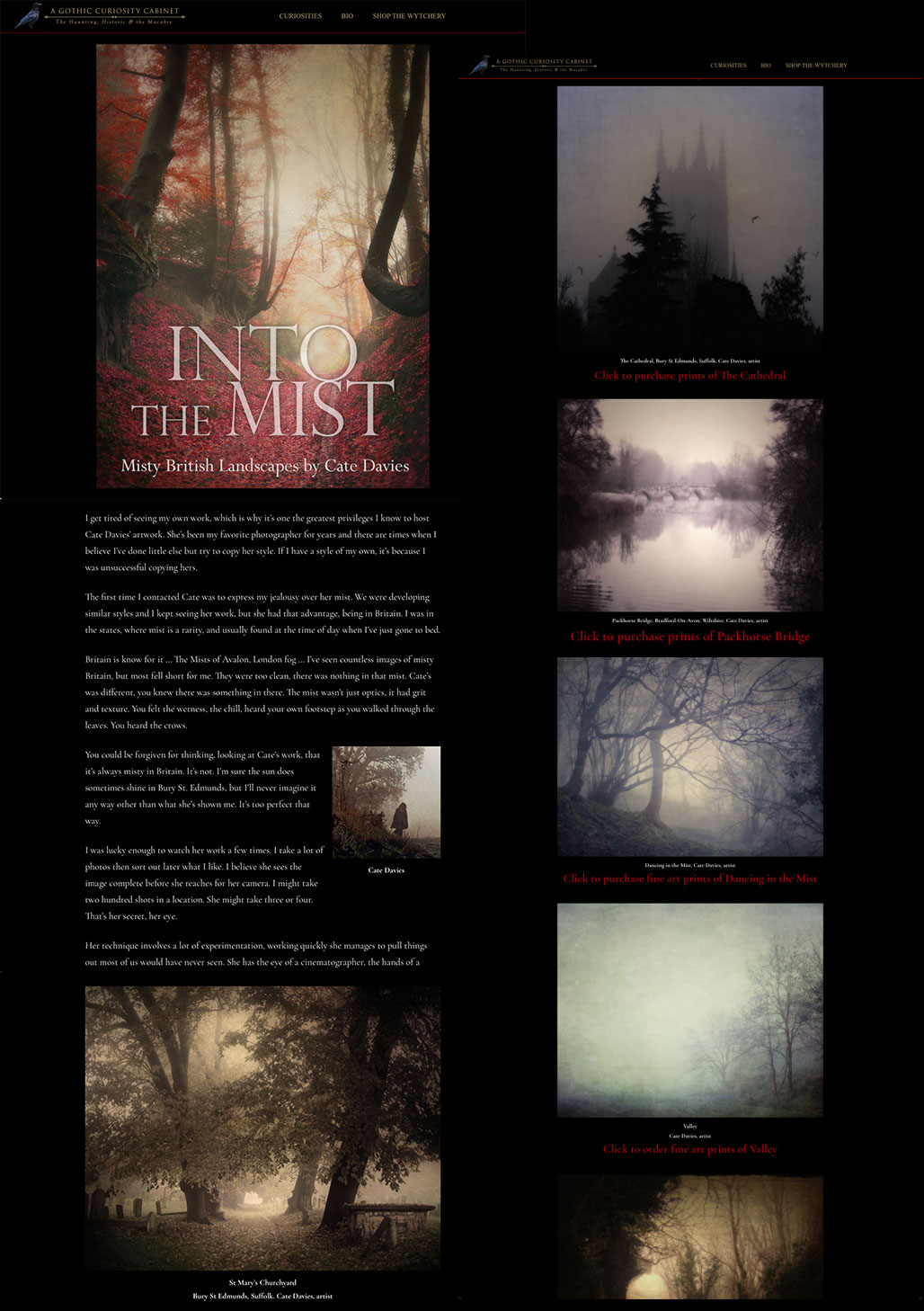 Though I have a site dedicated to selling art prints and stock, once again it makes sense to offer some of these images here on A Gothic Curiosity Cabinet. The traffic is already here, and the SEO value of a WordPress site far outweighs that of a SmugMug, or any photo website service.
Creating a gallery of images which reflect what is found on my SmugMug site is quick and easy, and great for spreading through social media. Cate Davies creates wonderful images of misty Britain, and in a short time I can get her work in front of a few thousand people, who are more than happy to spread it around.
While my WordPress site doesn't have the flexibility that my SmugMug site has in displaying galleries, with the popularity of phones and tablets, that's not so important any longer. Simply displaying the images full width, one above the other fits today's viewing habits better and have more impact than thumbnails with need clicked to be seen large.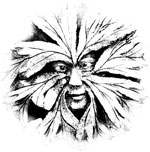 Wytchery Art: Turning a SmugMug site into one devoted to selling fine art prints
When designing a photography site, it makes sense to show your images based on how your visitors are looking to purchase
About a decade ago I started a site to sell fine art prints. It was my first personal website and surprisingly it took off. There's never been a year where expenses outweighed profits, but over time, the profits have dwindled. It's almost impossible to go up against the big photo and print houses now, unless you've already made a name for yourself.
Specializing is important, especially for a travel photographer. I don't live in the location I shoot for the most part, so I don't get the benefit of local search traffic from Google. I'm not a conventional photographer, so stock photography for journalistic purposes is out of the question. That leaves book covers and editorial uses for stock photography, and fine art prints, where the overall feel of an image is more important than undiluted reality.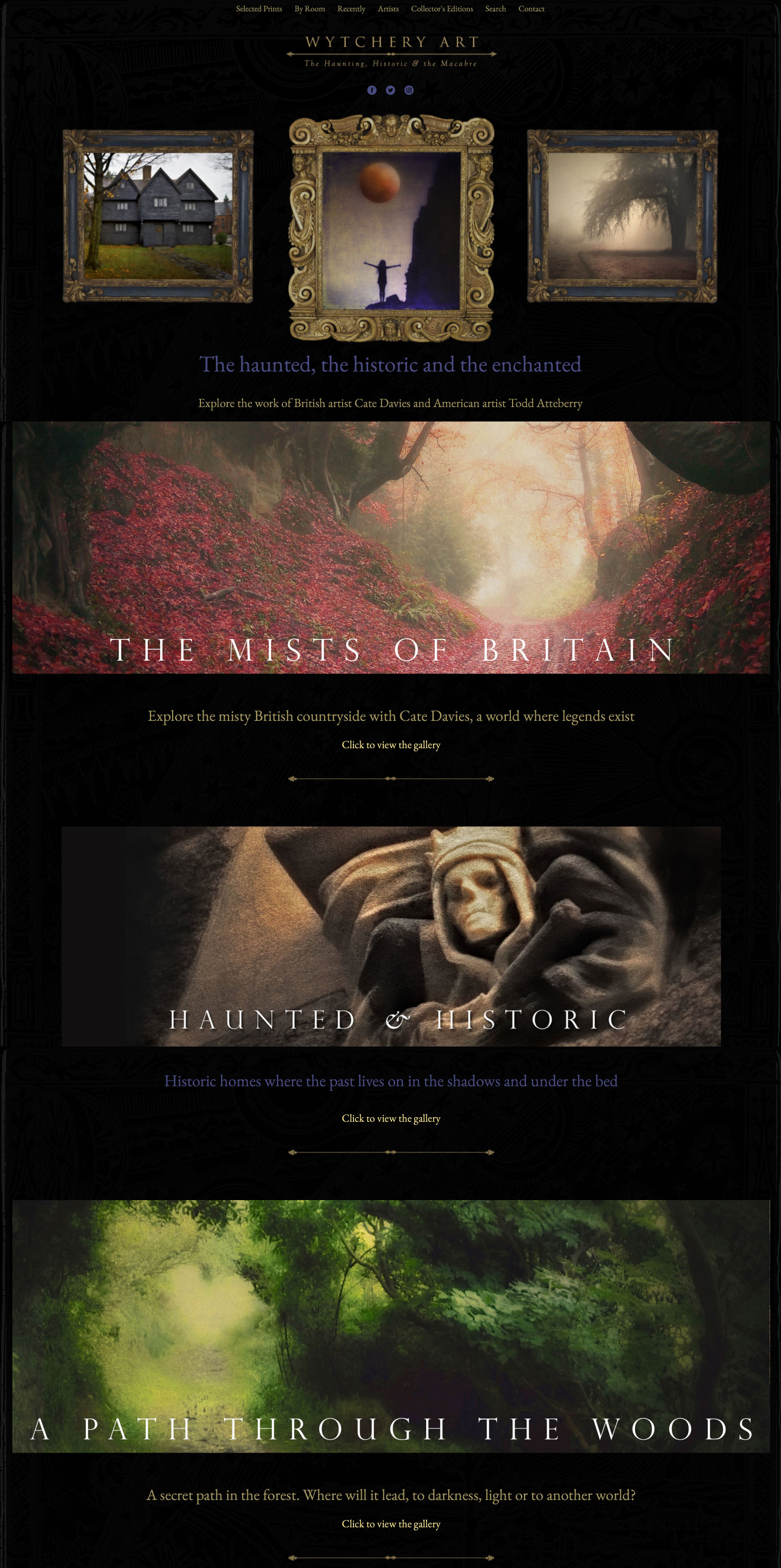 The first thing any photographer's website dedicated to selling prints should do is tell the visitor these images are for sale. We forget, a lot of people who find our images are just looking at pictures, not thinking about purchasing. Something as simple as displaying images in frames gets that point across.
Until the past couple of years, most people viewed a site like this on a computer. Today the odds are greater it will be a phone or tablet. So you want an experience which provides the largest image possible on all screens. So rather than create thumbnails for laptops and desktops, which translate to full screen images on tablets and computers, I searched for a solution which works full width on both.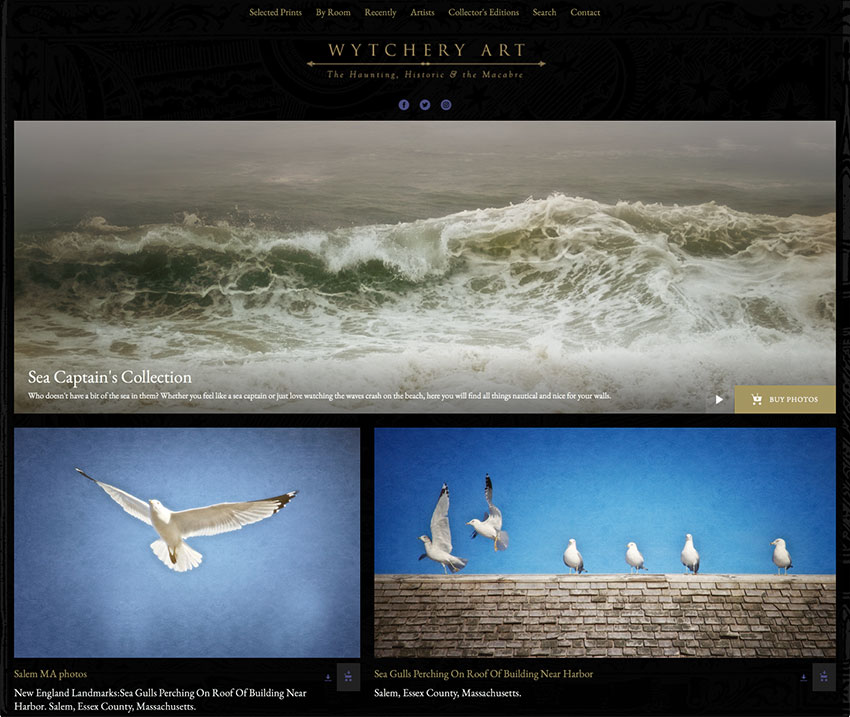 People are often looking to buy art prints based on the type of room they're trying to decorate. They don't want to wade through a hundred images looking for a single one that fits their idea. So I broke the images down into small galleries based on design trends – albeit with more colorful names. So a person looking for images of the sea can choose The Sea Captain's Gallery, or for an image for child's room in The Nursery.
How many images? To be honest, ideally that would be twenty or less. But like anyone else, I find it hard to whittle it down to that few. I'll get there in time.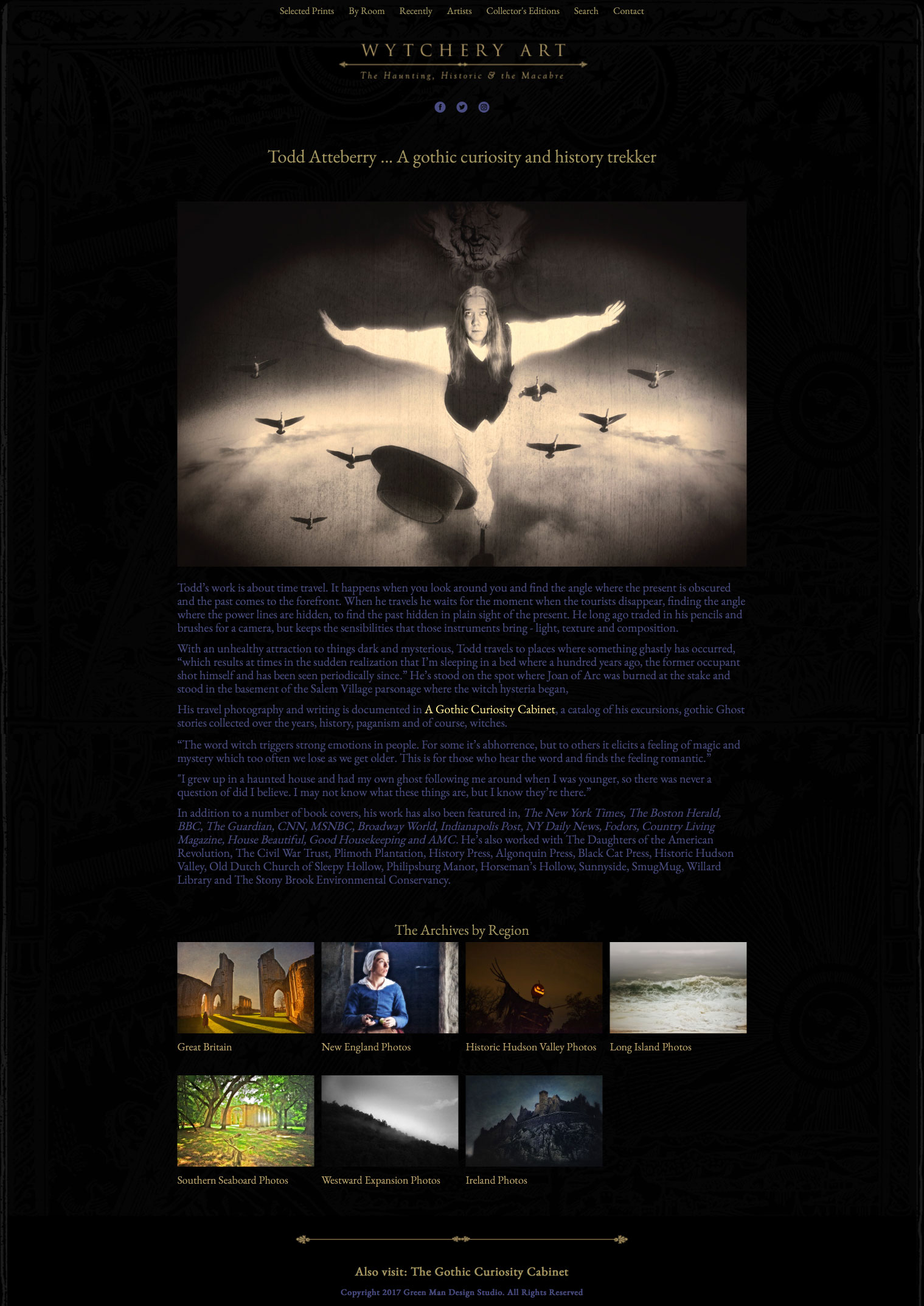 A key component to selling fine art prints is to make the case that you're an artist. Your personality, your reputation or in my case, notoriety all come into play. We all hate talking about ourselves, but we also hate starving, so it behooves us to put our best foot forward.
Calling yourself an artist is a daunting task for a lot of us. Honestly, I'm a craftsman. There's an art to what I do, but mostly I crank out images of a similar style. I always wanted to be a fine artist, and some day I'll certainly get there in my own mind. To many other people, I'm there already. So the trick is to portray yourself as the person you want to be, that you're actively working to become.
You have to sell yourself in today's market – nobody's going to do it for you. People online are moving faster than ever, you can't expect them to pick up what you're trying to do by intuition. Spell it out for them.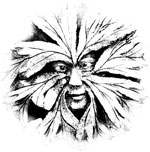 The worlds first literate garage band?
Combining the work of the romantic poets with acid rock and SEO
A few years ago my kid got a set of drums. Playing drums is boring without a band, so I thought why not join him? I'd played most of my life, though not in several years. So I recruited my old musical partner to form the trio Folkswitch.
I never cared for playing bars, and with a twelve year old drummer that's not an option. Other places to play in my area are few and far between. But with today's technology, anyone can make an album with a minimum of investment. Luckily, the lowfi movement make even rough sounding music commercially viable. Except of course, few people buy music now.
We settled on romantic poetry for lyrics because there's always people searching for the poems. If they like the poem, they might like the music as well, so it became an SEO experiment too.
After a full year of having our work out there, we've had a few thousand people listen to one or more songs all the way through, even sold a few albums and tracks. To me, it's much more satisfying knowing that someone in their home listened to one of our original songs and liked it, rather than the instant gratification you get watching drunks wiggle their bums as you play a cover song in a bar.
The downside? My now sixteen year old kid is too good to play with us, soon rendering us an acoustic duo. Until he wants his allowance.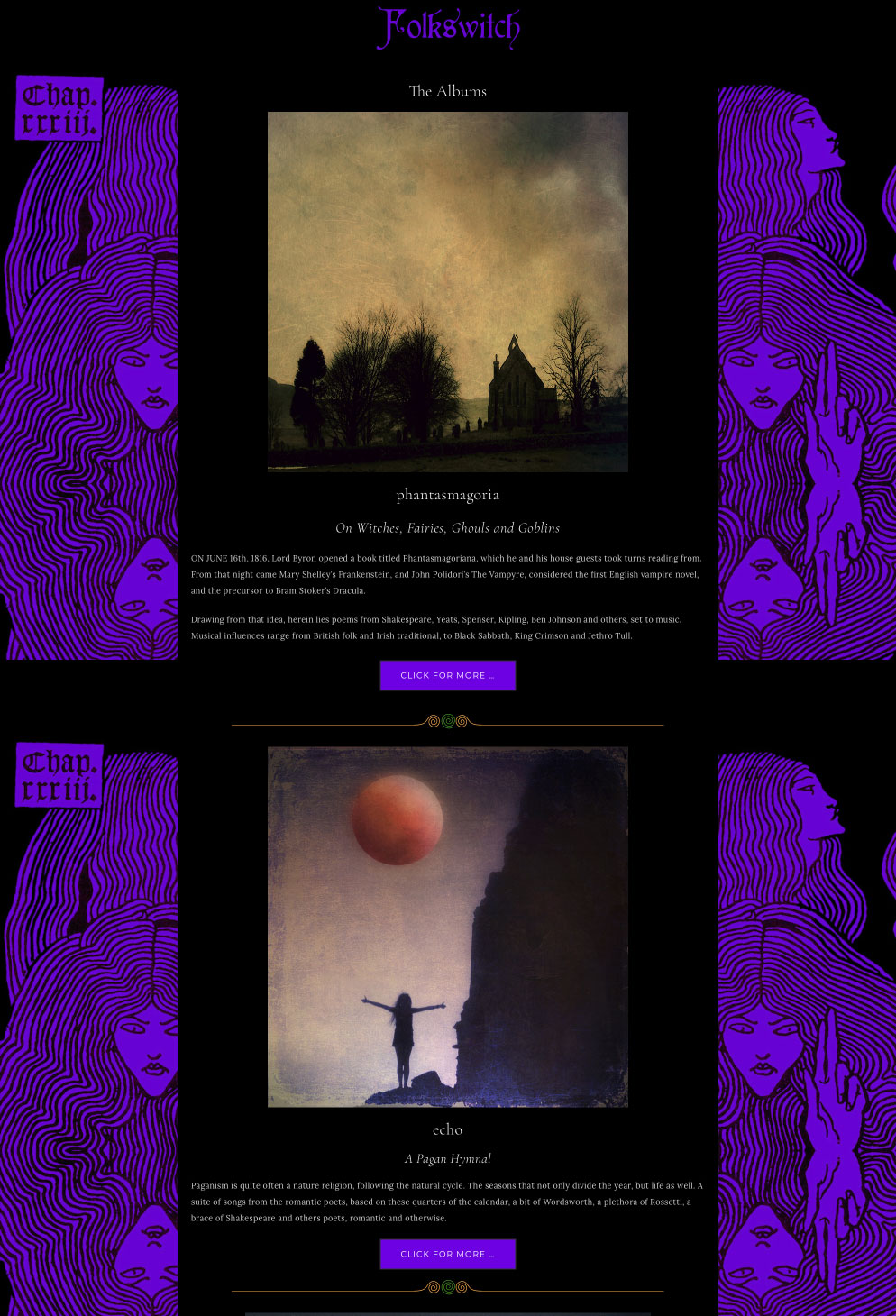 An album page from the website, with two of our albums. Since we exclusively sell online, there is no need to plaster the cover art with our logo and album title. It's already on the site. That allows the artwork to remain pure. And hey, it worked for Pink Floyd.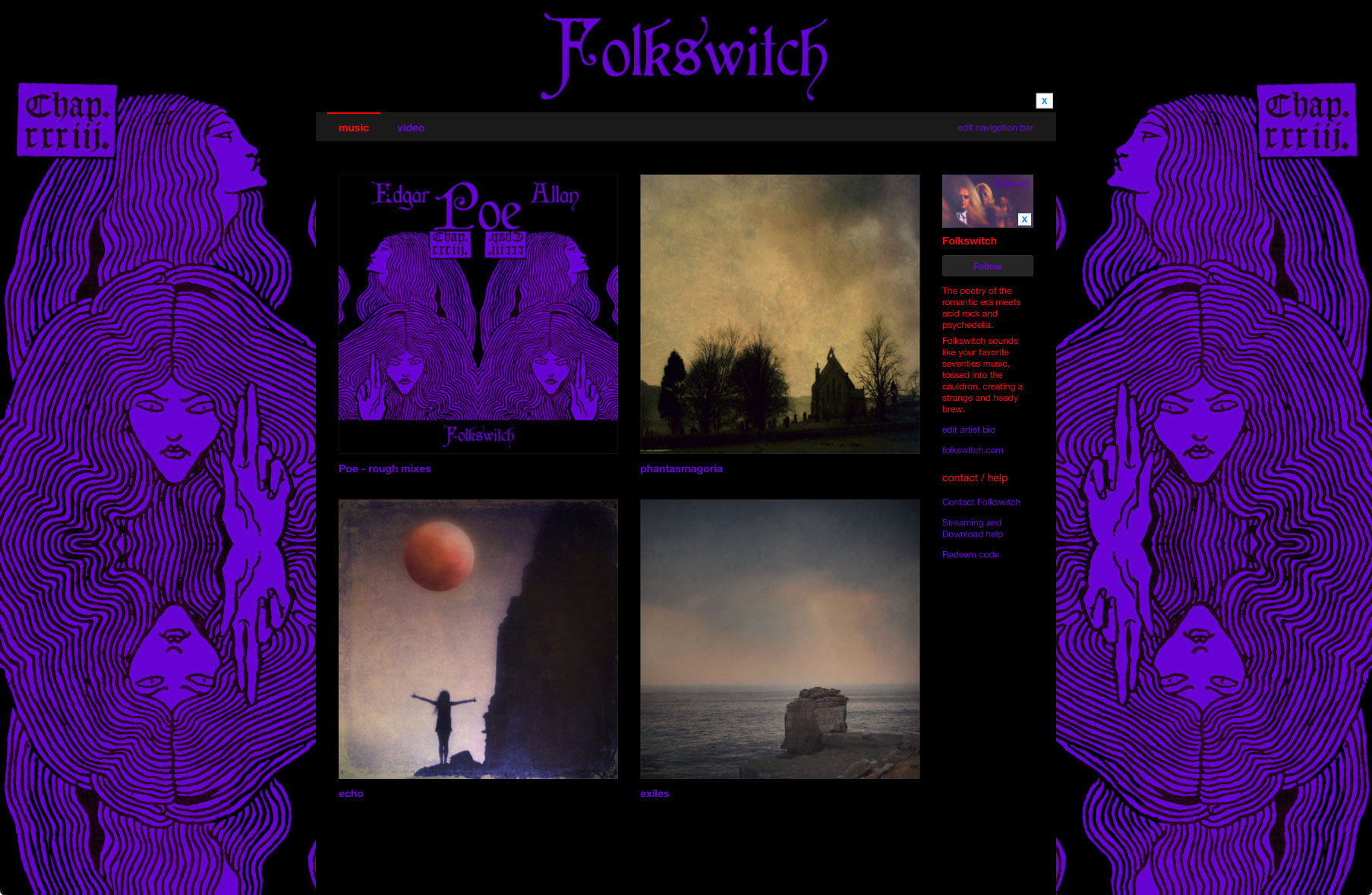 Even Ozzy Osbourne bemoans the end of album sales, but it's important to make them available. Bandcamp is an excellent choice for selling as it is essentially a free service, you can set your own price, has high quality downloads and even offers physical CD and merchandise sales. Also, you can customize your Bandcamp pages to match your website to a great degree.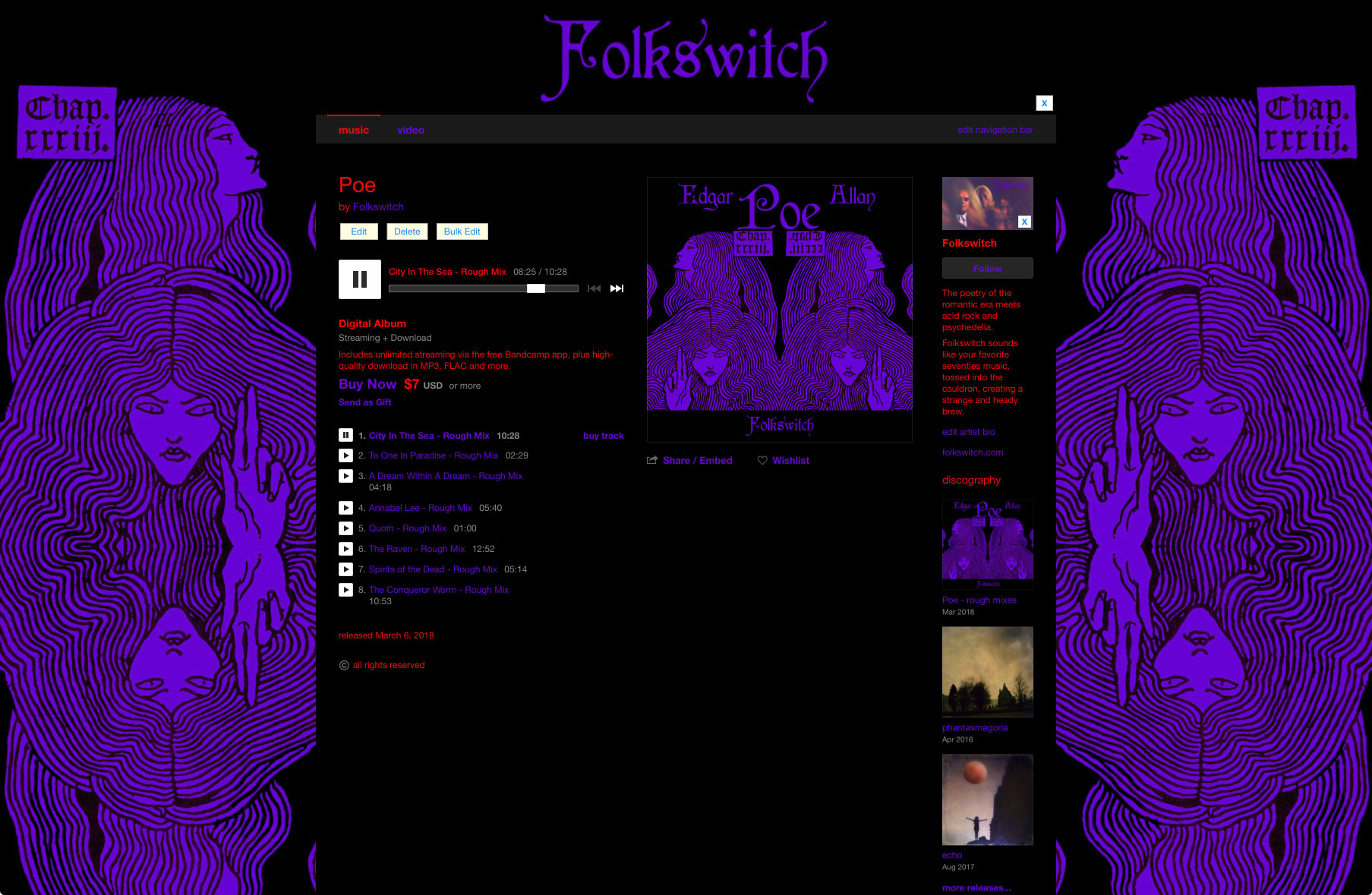 Album pages on Bandcamp allows you to let your audience preview the track or listen to it in its entirety up to three times. Many people use Bandcamp as a source for finding new music, so it's a bit of a community as well, and includes the ability to share tracks on social media. An phone app is available too.